"Delivering a quality and timely service at competitive prices"
Background
Since the early days of the 1970's, Stanley Land Drainage quickly established an outstanding reputation for providing a high quality service in all aspects of Land Drainage. Today as a result of this commitment to quality the Company has an expanded client base, throughout the whole of the U.K. regularly responding to the most exacting demands called for in this very specialised business area.
Unrivalled Capability
Stanley Land Drainage Ltd primarily delivers land drainage and trenching solutions to the agricultural, sports ground and utility construction markets nationwide. The company's competitive edge lies in its ability to adapt machinery to satisfy client requirements. The company's narrow trenching and moleploughing capabilities are far ahead of our competitors enabling us to deliver systematic cut, installation and reinstatement at rates that exceed the expectations of our customers. This service minimises disturbance to the environment, a factor that is becoming more important in today's society.
Typical Project Lifecycle
Although projects vary widely, a typical lifecycle involves customer liaison to establish requirements followed by estimation, which generally requires a site visit. Upon successful tender, a project plan is drawn up, preliminary site facilities are set up and men, machinery and equipment are deployed. If required, SLD provide a full site and project management support requiring location of existing services, risk analyses etc. Upon completion, the work is measured in meterage, an "as-built" plan drawn up (if required). Quality is controlled through working to method statements and periodic inspection. Client relations are managed at all levels of the organisation in tune with the structure of our clients.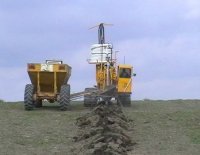 Why Stanley's?
| | |
| --- | --- |
| | Over 30 Years Experience |
| | Trained teams |
| | Professional Accreditation |
| | Reputation for a quality service at competitive prices |
| | Operational capability in road, rock, field or verge |
Client Support
| | |
| --- | --- |
| | Site Survey |
| | Project Management |
| | Risk Assessment |
| | Client liaison |